Maui
Wide sandy beaches, warm breezes and luxury resorts - when people think romance in Hawaii, they think of Maui. But Maui isn't just for lovers and honeymooners. Take a day or two away from all that sun and sand to discover the rest of the island. (Don't worry, the beach will still be there when you get back.)
This former whaling hub in West Maui has changed a little since the 19th century. Now it's a sprawling resort area, offering everything from 5-star luxury hotels to more affordable condo rentals that are perfect for a group getaway.
Maui's chic resort area, home to pristine beaches, manicured golf courses and upscale hotels. Slip on your sunglasses and channel your inner celebrity as you lounge by the ocean.
Haleakalā
House of the Sun
This dormant volcano is the center of Maui and according to legend, a center of Hawaii itself. It's here that the demigod Maui trapped the sun to lengthen the day – Haleakalā, House of the Sun. Reserve your spot ahead of time to be one of the lucky few to see the first rays of the rising sun over the summit.
Road to Hana
Adventure Awaits
Maui's most famous stretch of highway runs along the north shore of the island. Stop at as few or as many of the beaches, waterfalls and local hangouts you pass to create your own vacation – all you need is a rental car.
Maui's Road to Hana
The narrow, twisting "Road to Hana" is popular for all the right reasons. You'll pass great scenery, roadside stands and take in some retro Hawaii atmosphere. Bring a camera, a good pair of hiking shoes and a laid-back attitude towards the speed of traffic around you.
Hang out in Paia - A classic, quirky Hawaiian surf town at its best. This half-mile stretch of shops, restaurants and local hangouts is a great place to people watch, grab a bite and pick up unique souvenirs for your friends back home.
Get your banana bread to go – The road to Hana is lined with small stands selling fruit, snacks – and banana bread. Every stop claims to be the best, so you'll probably have to try a few.
Visit the Garden of Eden – Ten miles into your drive, you'll reach the Garden of Eden. This lush 26 acre botanical garden is packed with native Hawaiian plants and picture-perfect overlooks. Take a breath, re-center, then head back to the car.
Choose your waterfall – Wondering why all those cars are parked along the road? The drive to Hana is famous for its waterfalls, and your new favorite is just around the next bend. Some, like Twin Falls, have parking lots, amenities and a steady stream of visitors. Others are simply a well-hidden hike off a generous shoulder.

For information on activities and tours, call one of our Maui Activity Centers.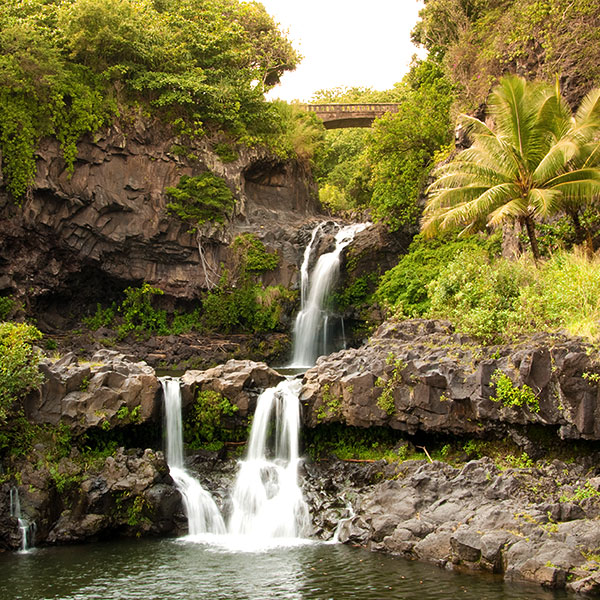 Grand Wailea, A Waldorf Astoria Resort
With stunning ocean views and gardens rich with tropical flowers, the Grand Wailea offers a picture-perfect setting. Stylish accommodations, a magnificent spa and a beautiful pool reserved for adults only promise a romantic getaway, while an endless array of activities for kids make this resort the perfect choice for an upscale family vacation.

Why We Love It:
The setting - The resort is located on what's hands down our favorite beach on Maui.
The pools - Nine pools on six different levels are connected by a lazy river, intertwining waterslides, rope swings and the world's first water elevator. Those looking for a little quiet time can escape to the Hibiscus Pool.